CPL. Ciara M. Durkin
1977-2007
Website created, owned, and operated by the Durkin Family.
Memorials for Ciara
Ciara's Tree - Planted November 27, 2007.
Shortly before Christmas, 2007, two of Ciara's good friends, Mary and Susan Redmond, suggested a tree be planted in Ciara's memory. Ciara worked for Susan at her landscaping business before Ciara joined the Army. The link to Susan's landscaping website is below.

Susan donated and planted the tree on November 27, 2007. It was planted in Ciara's mother's front yard for all to see. In addition to planting the tree, Susan also performed maintenance on the rest of Ciara's mother's property! The tree has been decorated with white lights, and is lit up every night as shown above.

The tree has brought so much joy to the family, especially Ciara's mother. Their kindness is greatly appreciated.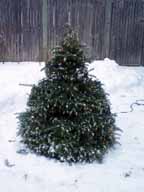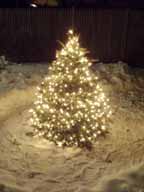 Click on the picture for larger version.
Daytime
Nighttime